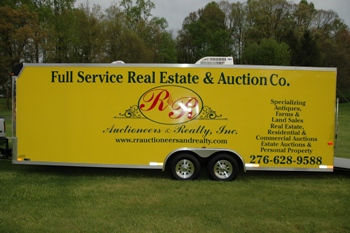 Can't make it to our auction?
Download our mobile bidding app to your smartphone, and bid from wherever you need to be. Works for both Apple and Android.
What Our Clients Say!
Vann Roark with R & R Auctioneers & Realty, Inc., is a great person to handle all aspects of your deceased loved one's Estate. When we called him, he immediately made an appointment to meet with us. He and his staff packed up with care all the household and personal items, along with handling the vehicles as well as making an inventory list as they went. Vann always arrives on or before the scheduled time and does what he says he will do. This was a difficult year with COVID-19 but Vann found a way to have an estate sale using social distancing and wearing masks since we couldn't have a live auction with the personal property. Vann was in contact with us at least weekly on the progress of the estate and he was always available to answer our questions. He went with us on appointments, and answered all of our questions on matters when we asked. In today's time it is unusual to find a man of Vann's character who is honest and up front and actually does what he says he will do. Vann is a good businessman and I would definitely recommend using him for all of your real estate and auctions needs.